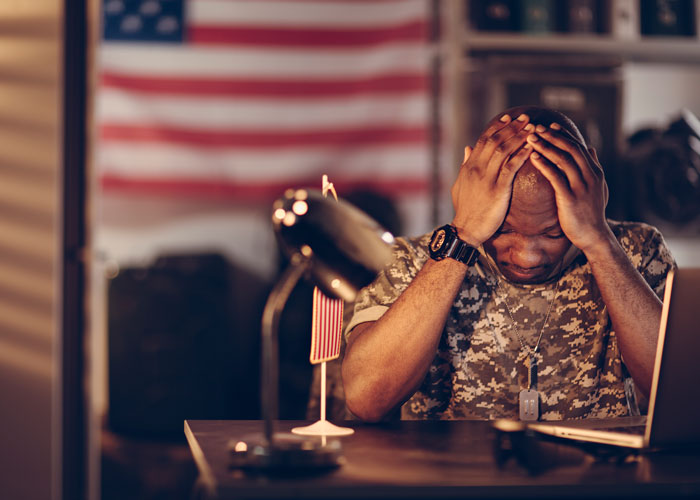 It is not uncommon for veterans to be treated for mental health disorders. Some of the more common disorders veterans struggle with include schizophrenia, anxiety, panic, mood, bipolar, depressive, and adjustment disorders.
If you are a veteran and have been diagnosed with a psychiatric disability, you may be entitled to benefits. Call our law firm today to set up a consultation with one of our VA disability lawyers in Kalamazoo, MI. Our veteran disability lawyers are here to help you get the best result from your case.
Getting Help With Your Psychiatric Disability
Why Did the VA Deny My Claim?
Veterans are regularly diagnosed with mental health disorders shortly after departing active duty. Often times, this is because the previous stigmas or impediments precluding a diagnosis while on active duty no longer exist. In other words, veterans feel more comfortable seeking assistance after leaving the military. Other veterans develop mental health disorders shortly after getting out of the military because of their active duty experiences.
Unfortunately, the lack of a diagnosis while on active duty is often the reason the VA denies veterans service-connection for mental health disability. Generally, the VA can only grant service-connection for a mental health disability if the condition started while on active duty. The onset of symptoms is generally accepted as the starting point of a medical condition, and mental health diagnoses are typically made based on an individual's symptoms.
The VA tends to ignore symptoms and will only look for formal diagnoses made while the veteran was on active duty. Due to this, the VA might wrongly deny service-connection to veterans for mental health disorders since their conditions were not formally diagnosed while on active duty. This is unfortunate and done in error. The law requires the VA to consider symptoms and other circumstantial factors when rendering a decision for service-connection. Fortunately, our are ready to help you start your appeal.
Should I Get a VA Disability Lawyer?
Yes! Our veteran disability lawyers can help you gather critical evidence needed to successfully claim a service-connected psychiatric disability. Mental health disorders can be a difficult area of VA disability law, which is why we don't recommend appealing the decision alone. Our can help you gather the evidence necessary to substantiate your claim. Veterans are routinely denied VA benefits for mental health disorders, which is why it's important you contact our veterans attorneys today.
Our VA disability lawyers in Kalamazoo, MI can help you file an appeal if your claim was wrongly denied. To learn if you're entitled to VA benefits for psychiatric disability, request a consultation with the VA Disability Group by calling 1-844-VET-LAWS (1-844-838-5297).